GEISAT is a planned constellation of three methane-detecting optical microsatellites of the private Spanish company SATLANTIS. The mission's predecessor, GEISAT Precursor, was launched in June 2023 and is planned to be joined by the GEISAT Constellation in 2025.
Quick facts
Overview
| | |
| --- | --- |
| Mission type | EO |
| Agency | Satlantis |
| Mission status | Operational (nominal) |
| Launch date | 12 June 2023 |
| End of life date | 2030 |
| Measurement domain | Atmosphere |
| Measurement category | Trace gases (excluding ozone) |
| Measurement detailed | CH4 Mole Fraction |
| Instrument type | Atmospheric chemistry |
| CEOS EO Handbook | See GEISAT Constellation summary |
Related Resources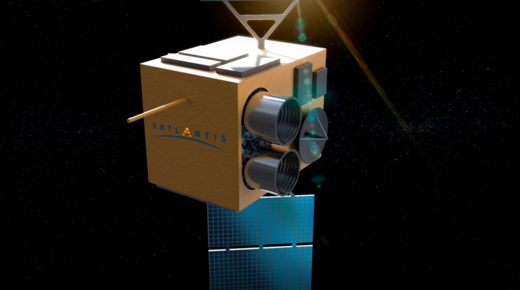 Summary
Mission Capabilities
The GEISAT Constellation will house the iSIM-170 (integrated Standard Imager for Microsatellites) instrument, a Very High Resolution (VHR) Visible and Near Infrared (VNIR) and Short Wave Infrared (SWIR) imager capable of acquiring imagery in both channels simultaneously. Pairing the high resolution of the SWIR channel with the geopositioning of the VNIR channel will allow for the precise determination of methane emission sources globally. 
The GEISAT Precursor mission carries the iSIM-90 imager, which also operates in the VNIR & SWIR spectral regions with a large flight heritage.
Performance Specifications
The iSIM imagers are based on a modified Maksutov-Cassegrain binocular telescope that enables simultaneous VNIR and SWIR acquisition. iSIM-90 and iSIM-170 have respective VNIR spatial resolutions of 1.65 m & 0.8 m, and SWIR spatial resolutions of 13 m & 9 m, with SWIR channels ranging up to 1700 nm for iSIM-90 and 2300 nm for iSIM-170. iSIM-90 has a methane detection threshold of 150 kg/h, and iSIM-170 with 50 kg/h. 
GEISAT Precursor orbits in a Sun-synchronous orbit with an altitude of 520 km.
Space and Hardware Components
The GEISAT Precursor satellite is a 16U CubeSat of 17.4 kg mass, featuring deployable solar panels of dimensions 0.2 m x 0.2 m x 0.4 m and a design life of four years. The GEISAT Constellation microsatellites are planned to each have a design life of five years. 
 
Overview
The GEISAT constellation of SATLANTIS demonstrates an end-to-end solution for proprietary methane detection and point-source quantification, from the scientific payload to the final data products. GEISAT's objective is to perform atmospheric methane (CH4) measurements with high spatio-temporal resolution paired with simultaneous source emitter geolocation, for oil & gas industry methane management. 1)
The planned GEISAT constellation will include three Very High Resolution (VHR) microsatellites dedicated to CH4, greenhouse gas (GHG) and environmental monitoring with enhanced spectral capabilities. SATLANTIS already has a satellite in orbit, the GEISAT Precursor mission, which launched in June 2023. GEISAT will map low emission level CH4 hotspots with a low cost and very high resolution (VHR) multispectral sensor onboard CubeSats and MicroSats. 3)
SATLANTIS is a private Spanish 'Space Technology for Earth Observation & Universe Exploration' company, that demonstrates high satellite agility, spectral capture and VHR imagery. The company provides integrated satellite solutions to meet the end user's demand for precise requirements including following irregular flight paths around Earth. With help from strategic partners, SATLANTIS provides End-to-End solutions and unique customer data. The company will work closely with ENAGÁS, the main gas infrastructure operator in Spain.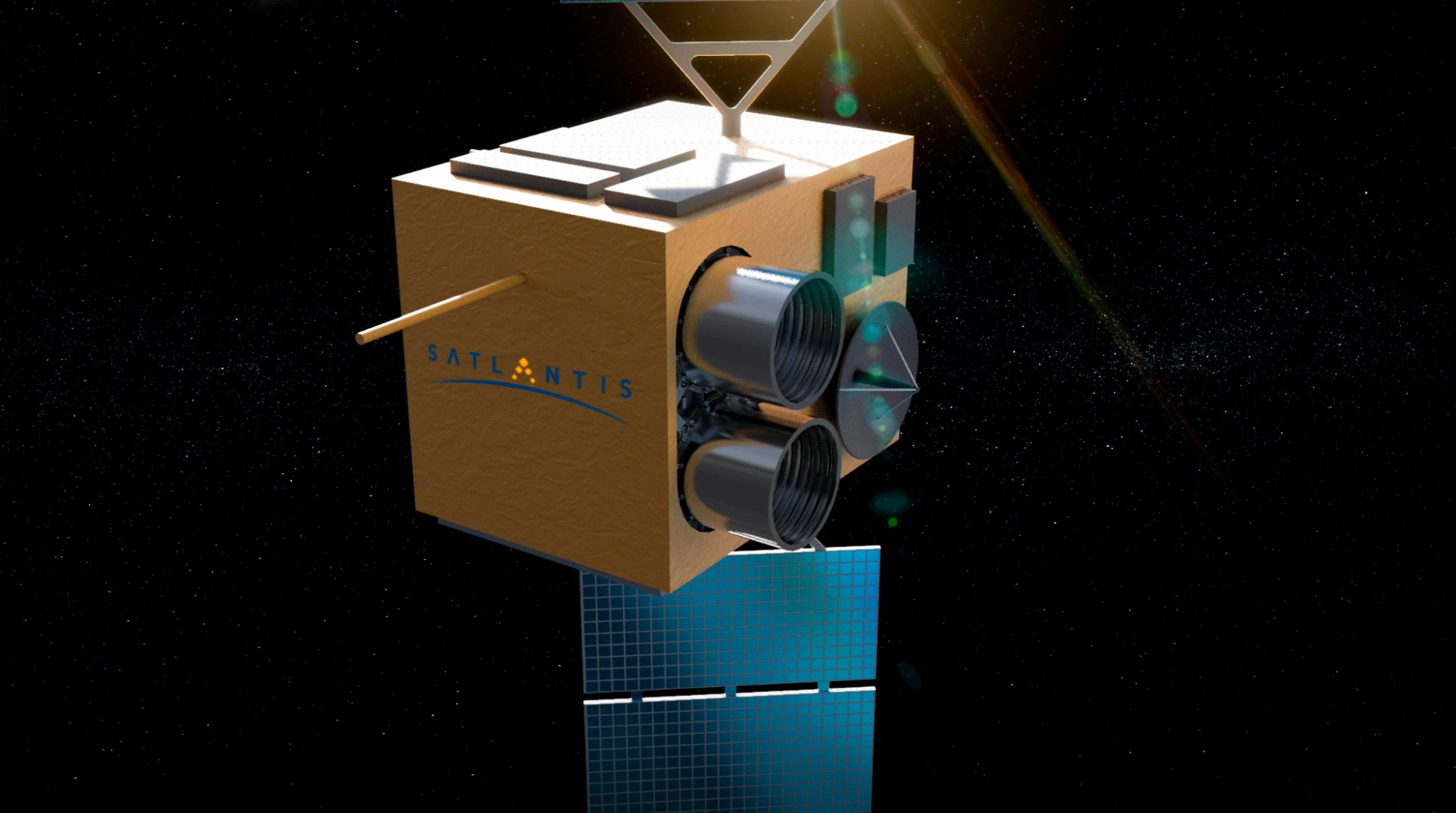 SATLANTIS' GEISAT constellation joins ESA's Copernicus programme as a Copernicus Contributing Mission (CCM). The CCMs will contribute to the global effort of addressing climate change while delivering complementary Earth Observation data to fulfil Copernicus data requirements and expand their range of observations. GEISAT joins Copernicus alongside more than 20 privately owned satellite missions and will complement the Sentinel missions by making observations over changing land, ocean and atmosphere. SATLANTIS will contribute to Copernicus with the GEISAT Precursor mission, which supports environmental monitoring applications and contributes to the understanding and mitigation of CH4 emissions. 2)
Methane is the second-most abundant GHG in Earth's atmosphere and has a 100-year global warming potential - 80 times that of Carbon Dioxide (CO2). One quarter of today's global warming can be attributed to anthropogenic methane emission, with the main sources coming from the oil and gas industry. These releases can originate from pipeline leaks, venting, flares, and more. Satellite observations reveal that the majority of CH4 releases from oil and gas infrastructure are from smaller, largely unidentified sources. 3)
Read more about greenhouse gas monitoring from space here.
SATLANTIS' solution of continuous top-down site-level CH4 monitoring will differ from current methane emission estimations, in which measurements cannot cover all relevant spatio-temporal scales as well as holding errors and uncertainties in the detection and quantification process. 3)
Spacecraft
GEISAT Precursor
The GEISAT Precursor satellite is a 16U CubeSat with a 17.4 kg mass, deployable solar panels of dimensions 0.2 m x 0.2 m x 0.4 m, and operates in the Visible and Near Infrared (VNIR) and Short Wave Infrared (SWIR) spectral regions.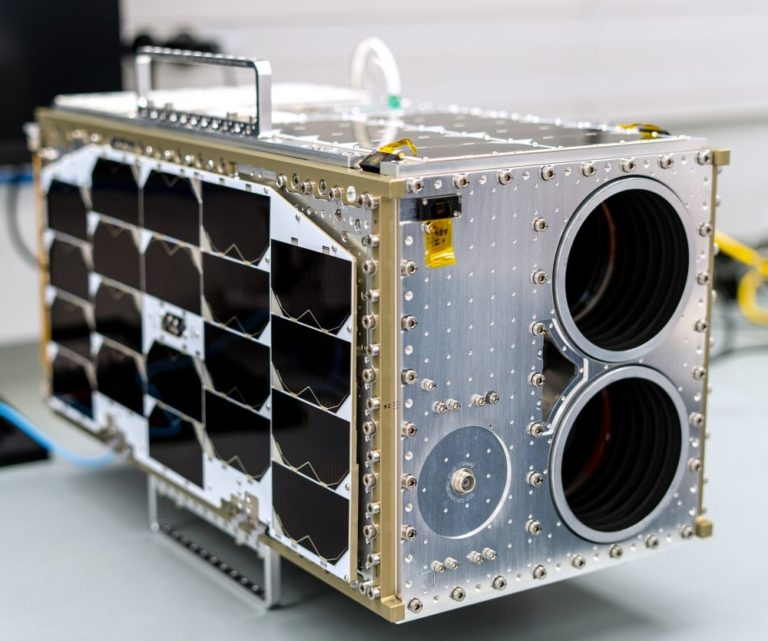 SATLANTIS also describes another constellation member, the GEISAT Plus microsatellite, which would succeed the GEISAT Precursor with a wider spectral range and higher spatial resolution. The satellite was planned to launch in Q4 2023, but it is not present in the SATLANTIS GEISAT roadmap, introducing uncertainty for a potential launch. 2) 3)
GEISAT Constellation
The Low Earth Orbit (LEO) constellation will employ robust and flight-proven platforms compatible with small launchers, with planned lifetimes of four years for the GEISAT Precursor CubeSat, and five years for the GEISAT Constellation MicroSats. 
Launch
GEISAT Precursor
The GEISAT Precursor mission launched on 12 June 2023, onboard a SpaceX Falcon 9 rocket on the Transporter-8 mission from the Vandenberg Space Force Base, California, USA. 
Orbit: GEISAT Precursor was placed into a Sun-synchronous orbit with an altitude of 520 km. 
GEISAT Constellation
The constellation of three microsatellites is planned to launch in Q3 2025.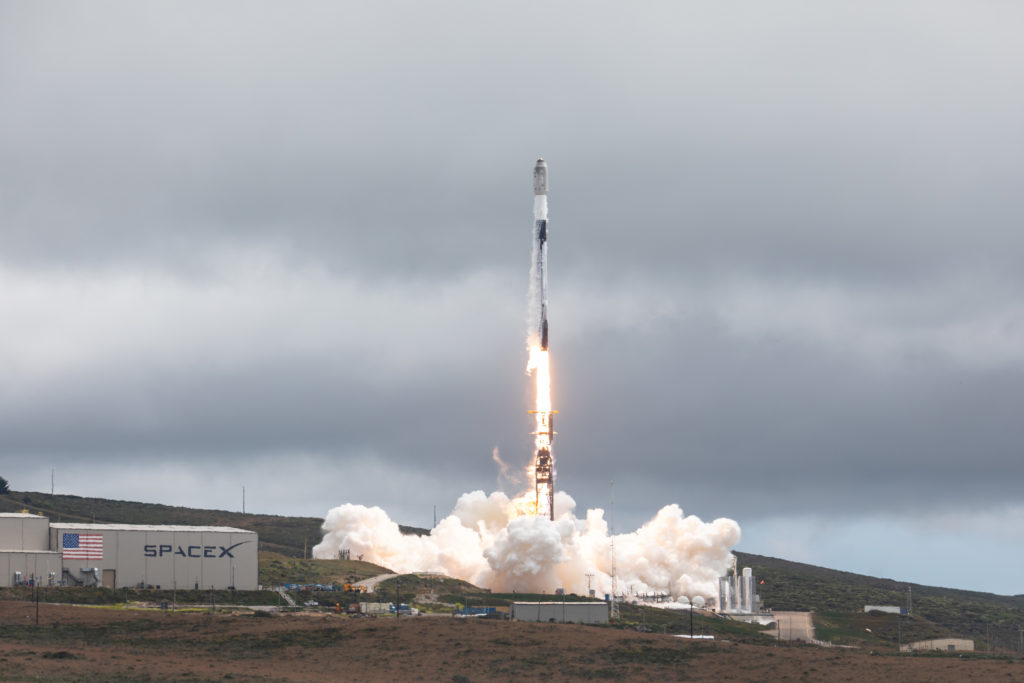 Mission Status
19th June 2023: SATLANTIS joins Copernicus as a CCM. The private space company joins Copernicus among the nine New Space Companies selected to join the Copernicus programme as a CCM. ESA and the European Commission welcomed the new CCMs at the Paris Air Show, France. 2)
12th June 2023: GEISAT Precursor launched onboard a SpaceX Falcon 9 rocket on the Transporter-8 mission from the Vandenberg Space Force Base, California, USA. 
Sensor Complement (iSIM)
GEISAT will detect methane with Multispectral Differential Photometry, in which imagery is acquired through multiple filters to measure signal returns at corresponding wavelengths and obtain the methane absorption. Prior to this, imagery is corrected for atmospheric and wind effects. 3)
The high resolution of GEISAT's SWIR channel paired with the geopositioning ability provided by the VNIR channel will facilitate an unprecedented ability to determine the exact location of methane emissions around the globe. 3)
iSIM (integrated Standard Imager for Microsatellites)
SATLANTIS' iSIM is a high-resolution, multispectral, agile optical imager developed for the new generation of EO microsatellite constellations. 
Table 1: Sensor specifications, 3)

| | | |
| --- | --- | --- |
|   | GEISAT Precursor, iSIM-90 | GEISAT Constellation, iSIM-170 |
| VNIR Resolution (m) | 1.65 | 0.8 |
| SWIR Resolution (m) | 13 | 9 |
| SWIR Spectral Range (nm) | Up to 1700 | Up to 2300 |
| CH4 Detection Threshold  (kg / h) | 150 | 50 |
iSIM-90 SWIR
iSIM-90 SWIR employs a modified Maksutov-Cassegrain optical design, a diffraction-limited binocular telescope constant of three optical elements: 
A high-precision, quasi-athermal, robust light alloy structure supported with carbon fibre rods.
A set of Commercial Off The Shelf (COTS) 2D detectors, modified to withstand vibration, thermal and radiation effects.
A high-performance, reconfigurable onboard image processor. 
Table 2: iSIM-90 Specifications, 3)

| | |
| --- | --- |
| Focal Length (mm) | 775 |
| Spectral Range (nm) | 450 - 1700 |
| Field of View (FOV) | 1.8° |
| VNIR Spatial Resolution (m) | 1.65 |
| VNIR Swath Width (at 500 km altitude) (km) | 13 |
| SWIR Spatial Resolution (m) | 13 |
| SWIR Swath Width(at 500 km altitude) (km) | 16.5 |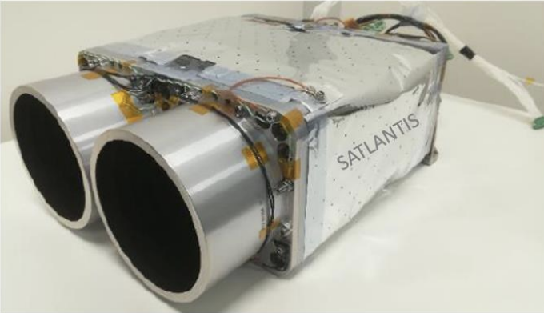 iSIM-90 has flight heritage on three missions prior to GEISAT. The first being the CASPR (Configurable Autonomous Sensor Processing Research) mission of the University of Pittsburgh for the Space Test Program - Houston 7 (STP-H7) mission to the International Space Station (ISS). The second iSIM-90 VNIR imager launched was onboard the SATLANTIS URDANETA mission, and the third onboard ESA's MANTIS (Mission and Agile Nanosatellite for Terrestrial Imagery Services) mission. 3)
iSIM-170
Following flight validation of the iSIM-90 SWIR imager onboard GEISAT Precursor, the iSIM-170 SWIR imager will be housed in the GEISAT Constellation microsatellites. To accommodate for the increased spectral range of iSIM-170 over iSIM-90, a new detector technology paired with cryogenic cooling will be implemented. Working at 2300 nm allows for better CH4 detection, the absorption peak at this wavelength is deeper than at 1600 nm. 
iSIM-170 was fully demonstrated in the iSIM-170 IOD (In-Orbit Demonstration) mission in 2020. iSIM-170 IOD was mounted on the Intra Vehicular Activity - replaceable Small Exposed Experiment Platform (i-SEEP) platform of the Japanese Experiment Module - Exposed Facility (JEM-EF) of the ISS.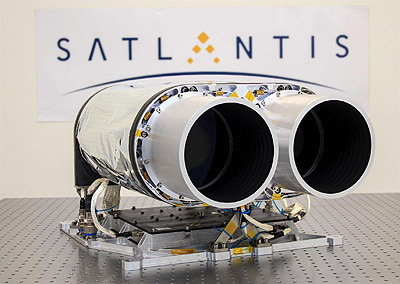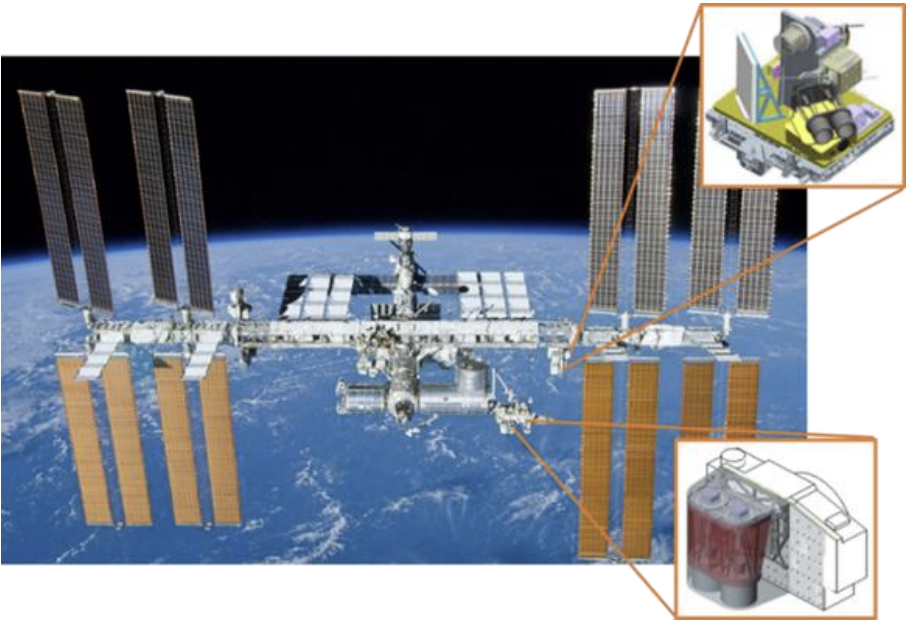 Ground Segment
SATLANTIS is developing and integrating a ground segment architecture consisting of: 3)
Mission Operations & Control Centre - for operation definition & scheduling, and the monitoring & control of the satellites and antennas. Consists of a Mission Control Centre paired with Mission Control Software.
Ground Stations Network (GSN) - for satellite communications.
Data Hub - for data storage, processing, and distribution. 
References  
1) "GEISAT CONSTELLATION", SATLANTIS, 2023, URL: https://satlantis.com/GEISAT-constellation/
2) "SATLANTIS joins Copernicus as a contributing mission," SATLANTIS, June 2023, URL: https://satlantis.com/satlantis-joins-the-copernicus-contributing-missions/
3) Marcos Ubierna, Manuel Montesino, Eider Ocerin, Roberto Fabrizi, "GEISAT Constellation For Greenhouse Gases Detection and Quantification," Satlantis Microsats S.L., 36th Annual Small Satellite Conference, 2022, URL: https://digitalcommons.usu.edu/cgi/viewcontent.cgi?article=5265&context=smallsat
4) "GEISAT Precursor successfully launched," SATLANTIS, 2023, URL: https://satlantis.com/GEISAT-precursor-successfully-launched/
The information compiled and edited in this article was provided by Herbert J. Kramer from his documentation of: "Observation of the Earth and Its Environment: Survey of Missions and Sensors" (Springer Verlag) as well as many other sources after the publication of the 4th edition in 2002. - Comments and corrections to this article are always welcome for further updates (eoportal@symbios.space).