ICEYE-X1 (SAR Microsatellite-X1)
Launched in January 2018, ICEYE-X1 was the proof-of-concept satellite mission of the Finnish startup ICEYE, in preparation for their Synthetic Aperture Radar (SAR) equipped commercial constellation, set to have 48 satellites operational by the end of 2024. The ICEYE-X1 mission aimed to test and validate the performance of the satellite and its components, as well as begin operations with ICEYE customers.
Quick facts
Overview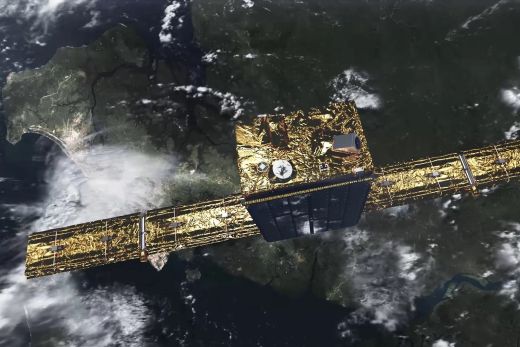 Summary
Mission Capabilities
ICEYE-X1 had a single X-band SAR onboard. It was developed by ICEYE Ltd with commercially available components. It monitored land and sea, with capabilities for monitoring changing sea ice, tracking marine oil spills, and measuring glacial flow, with various other use cases dependent on the customer.
Performance Specifications
The SAR onboard ICEYE-X1 had an operational frequency of 9.65 GHz, a spatial resolution of 10 m x 10 m, and a swath width greater than or equal to 80 km x 40 km. It featured both Stripmap and Spotlight operational modes.
ICEYE-X1 undertook a sun-synchronous orbit with an altitude of 505 km and an inclination of 97.55°.
Space and Hardware Components
Weighing 70 kg, ICEYE-X1 was launched aboard a Polar Satellite Launch Vehicle (PSLV-C40) constructed by the Indian Space and Research Organisation (ISRO), at the Satish Dhawan Space Centre in India.
Telemetry, Tracking, and Command (TT&C) communications were performed via S-band radio frequencies with a 32 kbit/s uplink rate and a 256 kbit/s downlink rate. Payload data was transferred via X-band with a rate of 50 Mbit/s.
In June 2018, ICEYE announced the successful completion of ICEYE-X1's goals and its operations concluded.
 
ICEYE-X1 (SAR Microsatellite-X1)

Spacecraft     Launch    Mission Status     Sensor Complement    References
Overview

The company ICEYE Ltd, a commercial satellite startup company of Espoo, Finland, is designing a constellation of SAR (Synthetic Aperture Radar) microsatellites that it anticipates will be more than 100 times less costly to produce than comparable larger spacecraft. ICEYE is a spinoff from the Aalto University Radio Science & Engineering department (Aalto-1 nanosatellite project), co-founded in 2014 by Rafal Modrzewski and Pekka Laurila. ICEYE plans to launch their first SAR microsatellite into space in early 2018 and, further down the road, create a swarm of satellites (more than 18) to take images all around the world. 1) 2)

ICEYE is focused on expanding the availability of SAR data to support decision making in diverse areas such as trade, exploration, relief efforts, farming, and environmental protection.

ICEYE-X1 is ICEYE's initial proof-of-concept microsatellite mission using an X-band SAR sensor. The goal of the mission is to validate in-orbit performance of the satellite and begin operations with select ICEYE customers. Data received from the satellite in space can be used for a wide variety of use cases including monitoring changing sea ice for maritime and environmental uses, tracking marine oil spills and helping to prevent illegal fishing, to name a few examples.
Spacecraft

ICEYE-X1 has been developed and integrated by ICEYE (IXEYE -series bus). The platform is a three-axis stabilized spacecraft with a mass of 85 kg; power is provided by 1 fixed solar array and batteries. The size of the microsatellite in launch configuration is 70 cm in height and 60 cm in width. The SAR antenna has a length of 3.25 m. The spacecraft has a lifetime of 2-3 years.

The ICEYE team is exploiting the greatest possible use of COTSs (Commercial Off The Shelf) components in their satellites rather than the special, space-rated components found in conventional spacecraft.
| | |
| --- | --- |
| Feature | ICEYE Satellite |
| Average unit mass | 85 kg |
| Imaging and polarization | X-band SAR, VV polarization |
| Resolution | 20x20 / 3x3 / 1.5x1.5 / 1x1 meters |
| Dynamic range | 16 bit |
| Imaging mode | Stripmap, Spotlight |
| Imaging time per orbit and per day | 180 s per orbit / 120 s continuous |
| Communications (downlink) | X-band radio, 100+ Mbit/s |
| Chirp bandwidth | Up to 300 MHz |
| Georeferencing | Under 10 meters (azimuth) |
| ADCS(Attitude Determination and Control Subsystem) | Reaction wheels, magnetorquers, star trackers |
| Propulsion | Ion engines |
RF communications are handled via S-band for housekeeping data downlink at 256 kbit/s and command uplink at 32 kbit/s while X-band is used for payload data downlink at a rate of 50 Mbit/s. The addition of a laser communications system will enable data downlink at speeds up to 1 Gbit/s.
Project Development Status

• ICEYE completed four, separate, aerial SAR imaging campaigns throughout 2017, delivering data to customers and further developing the company's instrumentation. This step has been crucial in hardware and software cycles and has afforded the company a strong footing before heading to orbit. 4)

- During these campaigns ICEYE has imaged, processed and delivered data to multiple partners, and has taken many steps in maturing its commercial operations and technical compatibility with the users as a result.

- In 2017, ICEYE finalized significant partnerships with future customer industries and established aerospace organizations. This includes a vast network of ground station operators, established satellite data companies and other New Space hardware companies.

- The company's recent 2017 additional funding of more than $14 million moves ICEYE even closer to achieving their goal. More importantly, as 2017 comes to a close, ICEYE is shipping its first satellite, ICEYE- X1, for launch. This will be the world's first SAR instrument that has been miniaturized to a satellite under 100 kg. The ICEYE- X1 will be providing data to select commercial customers shortly after launch.
• November 20, 2017: ICEYE, the leader in synthetic-aperture radar (SAR) technology, today announced an agreement with the DIUx (Defense Innovation Unit Experimental) to purchase airborne earth observation (EO) data support services from ICEYE U.S. 5)
- "Having just opened our U.S. subsidiary, ICEYE U.S. is on a fast-track in providing services that will help the public sector," said Mike Lyons, CEO of ICEYE U.S. "DIUx is tackling some of the nation's most challenging problems, and we're eager to provide them with data support services that will help in solving those problems."
- The U.S. Department of Defense (DoD) launched DIUx in 2015 to build a bridge between commercial technological innovation and national security endeavors. Headquartered in Silicon Valley with offices in Boston, Austin, and the Pentagon, DIUx facilitates DoD's efforts to identify and work with commercial companies, including ICEYE U.S., to help solve national defense problems.
- Earlier this year, ICEYE announced its expansion into the U.S. with an entity focused on delivering EO data in long-form to its current and prospective clients. ICEYE U.S. is also developing data analytics capabilities to support more varied industry specific services.
• October 13, 2017: ICEYE today announced plans to expand operations into Warsaw, Poland to further develop ICEYE's operations and accelerate company growth. Tapping into the country's deep and growing talent pool of engineers, ICEYE's expansion into Warsaw is the company's first office outside of its current headquarters in Espoo, Finland. Coming on the heels of securing nearly $15M in funding just this year, ICEYE remains on track to be the first organization in the world to launch SAR microsatellites. 6)
• September 25, 2017: ICEYE announced $1.2 M in new funding led by Seraphim Capital. This new funding will be used to scale up operations in the development of the company's SAR microsatellite technology for upcoming launches. 7)
• 23 August 2017: ICEYE announced $13M in new funding, including an $8.5M financing round led by Draper Nexus. ICEYE will use the latest funding to scale up operations, including manufacturing of the company's SAR technology built from off-the-shelf components, and launch additional satellites. ICEYE plans to launch the first three microsatellites equipped with SAR sensors over the next 12 months, delivering Earth observation data to select customers shortly thereafter. 8)
- This $8.5 M round also included participation from True Ventures, Lifeline Ventures, Space Angels, and Draper Associates. Additional funding was received from Finnish Funding Agency for Innovations, Tekes. Since starting its operations in 2015, ICEYE has secured a total of $18.7M in financing, including investments from the European Union's Horizon 2020 Research and Innovation Program.
• November 12, 2015: Iceye announced today a $2.8 million Series A funding round led by True Ventures, with participation from Lifeline Ventures and Founder.org. In September, ICEYE also secured € 2.5 million in R&D funding from SME Instrument within EU Horizon 2020. 9)
- Iceye provides quick-response imagery from space with microsatellites equipped with imaging radar technology. The Iceye instrument can see through clouds, obscuring weather, and in the dark—all conditions that limit camera-based services in situations where waiting for daylight and nice weather is not an option.
Launch: ICEYE-X1 was launched as a secondary payload on 12 January 2018 (03:59 UTC) on the PSLV-40 flight vehicle (XL configuration) of ISRO. The launch site was the SDSC (Satish Dhawan Space Center) SHAR (Sriharikota) on the east coast of India. The primary payload on this flight was CartoSat-2F (formerly CartoSat-2ER) of ISRO with a mass of 710 kg. 10) 11) 12)
Orbit: Sun-synchronous orbit with an altitude of 505 km and an inclination of 97.55º.
Throughout 2018, ICEYE has at least two additional proof-of-concept satellite missions planned to further develop and demonstrate the capabilities of the company's SAR technology. To mitigate the inherent risks associated with rocket launches and to verify specific provider capabilities, ICEYE has opted to launch its three initial missions each through different launch providers. ICEYE's next launch of a proof-of-concept satellite, ICEYE-X2, is currently indicated by the next launch's provider to occur during the summer of 2018.
Secondary Payloads

The co-passenger satellites comprise one microsatellite and one nanosatellite from India as well as one minisatellite plus 2 microsatellites and 25 nanosatellites from six countries, namely, Canada, Finland, France, Republic of Korea, UK and USA. The total mass of all the 31 satellites carried onboard PSLV-C40 is about 1323 kg.

The 28 international customer satellites are being launched as part of the commercial arrangements between Antrix Corporation Limited (Antrix), a Government of India company under Department of Space (DOS), the commercial arm of ISRO and the International customers.

Out of the 31 satellites, 23 were integrated on the rocket (and subsequently successfully deployed into orbit) using the ISISpace' QuadPack CubeSat deployers and relied on the ISISpace sequencing electronics for the timely deployment. With the success of this campaign, ISIS (Innovative Solutions In Space) of Delft, The Netherlands, has reached a total of 256 satellites sent to space and 197 QuadPack doors successfully opened.

• TeleSat LEO Phase 1, a communications minisatellite mission (168 kg) of Telesat Canada, built by SSTL, Surrey, UK.

• Carbonite-2, a microsatellite (~100 kg) of SSTL (X50 platform) to demonstrate video performance for the future Earth-i Vivid-i constellation. Earth-i is located at Surrey Research Park, Guildford, UK.

• IITMSAT [IIT (Indian Institute of Technology) Madras Satellite], also referred to as INS-1C, a student built microsatellite (11 kg) to study the energy spectrum of charged particles in the upper ionosphere.

• Microsat of ISRO in the 100 kg class, that derives its heritage from IMS-1 bus. This is a technology demonstrator and the forerunner for future satellites of this series. The satellite bus is modular in design and can be fabricated and tested independently of payload. 13)

• PicSat, a 3U CubeSat (3.5 kg) of the Paris Observatory, France. PicSat is an astronomy mission to measure exoplanetary transits.

• CANYVAL-X, 1, 2, a technology demonstration CubeSat mission (1U and 2U CubeSats) of Korea's Yonsei University and KARI (Korea Aerospace Research Institute) in collaboration with NASA; the goal is to demonstrate a Vision Alignment System.

• CNUSail-1 (Chungnam National University Sail-1), a 3U CubeSat solar sail test of Chungnam National University, Korea (4 kg).

• KAUSAT-5 (Korea Aviation University Satellite), a 3U CubeSat (4 kg) to observe the Earth with an IR camera and measure the amount of radiation around LEO.

• SIGMA (Scientific cubesat with Instruments for Global magnetic field and rAdiation) or KHUSAT-3 (Kyung Hee University Satellite-3), a 3U CubeSat to measure the global magnetic field and radiation.

• STEP CubeLab (Space Technology Experimental Project CubeSat Laboratory), a 1U CubeSat of Chosun University, Gwangju, Korea. The objective is to exploit core space technologies researched by domestic universities and verify the effectiveness of these technologies through on-orbit tests using the CubeSat.

• ICEYE-X1, Finland's SAR (Synthetic Aperture Radar) microsatellite with a mas of <100 kg.

• CICERO-7, a 6U CubeSat (~10 kg) of GeoOptics, USA, built by Tyvak, to demonstrate radio occultation observations.

• Arkyd-6A, a 6U CubeSat of Planetary Resources Inc., USA (formerly Arkyd Astronautics) to test attitude control, power, and communication systems as well as a photo-display-and-retransmission system.

• Fox-1D, a radio amateur and technology research 1U CubeSat, developed by AMSAT, USA and hosting several university developed payloads (University of Iowa, Virginia Tech, and Pennsylvania State-Erie).

• Lemur-2 x 4, 3U CubeSats of Spire Global Inc., San Francisco, CA.

• Landmapper-BC3 (Corvus-BC3), a 6U CubeSat (10 kg) of Astro Digital (former Aquila Space), USA to provide multispectral imagery of 22 m resolution on a swath of 220 km.

• MicroMAS-2a, a 3U CubeSat mission (3.8 kg) of MIT/LL (Massachusetts Institute of Technology/Lincoln Laboratory) of Lexington, MA, USA. Test of a compact microwave spectrometer and radiometer payload in orbit.

• SpaceBEE x 4 picosatellites, built to 0.25 CubeSat form factor, a technology demonstration, USA

• Flock-3p x 4, 3U CubeSats of Planet, San Francisco, USA.

• Tyvak 61C, a 3U CubeSat and a technology demonstration and astronomy mission of Tyvak Inc., Irvine CA, USA.
---
Mission Status

• August 22, 2018: ICEYE today announced agreement with ECM Space (Berlin, Germany) to launch two or more ICEYE SAR satellites into different target orbits over the next years. Leveraging ECM Space's experience launching small satellites, the partnership will contribute to ICEYE creating the world's largest SAR satellite constellation by the end of 2019, aimed to critically increase the frequency and availability of SAR satellite imagery for business and government customers. 14)

- As part of the longer-term agreement, ECM Space will provide launch arrangements to ICEYE as the company forges ahead on the development of its initial 18 SAR satellite configuration. The first two launches of the cooperation agreement will be performed starting this year through 2019.

• June 29, 2018: Following the successful completion of the goals of the mission, ICEYE has concluded operations involving the ICEYE-X1 spacecraft. 15)

- In addition to successfully demonstrating the world's smallest Synthetic Aperture Radar instrument in orbit with hundreds of images, ICEYE has identified a large number of improvements for future missions. These relate to items such as component choices, subsystem interfacing, flight software code, ground operations procedures, communication links, thermal performance of the system, and optimization of power management.

• May 22, 2018: An agreement has been reached in which BridgeSat will provide space laser terminals and data services to ICEYE, the first commercial microsatellite synthetic-aperture radar (SAR) constellation. BridgeSat's low-cost terminals and associated ground services give businesses and government agencies a faster, less expensive alternative to traditional radio frequency (RF) solutions for Low Earth Orbit (LEO) and Geostationary Earth Orbit (GEO) applications. 16)

- ICEYE provides turnkey data delivery and analytics services for commercial and government applications worldwide, including global disaster response, agricultural management, city planning, maritime port traffic management and forest management. It's the first organization in the world to successfully deploy SAR satellites with a launch mass under 100 kg.

- BridgeSat will provide ICEYE its Compact Laser Comms Terminals (CLCT), which provide up to 10 Gbit/s LEO downlinks in a compact form factor that weighs less than 2 kg. BridgeSat will also provide ground services through BridgeSat's free-space optical network.

- Barry Matsumori, BridgeSat CEO said that pioneers seek out other pioneers to change the world. They're the first to commercialize laser-based free space optical communication and associated ground services, which are an ideal match for ICEYE, the world's first commercial microsatellite synthetic aperture radar constellation.

- Rafal Modrzewski, ICEYE CEO added that by leveraging next-gen satellite technology, ICEYE is giving commercial and government users affordable new options for making informed decisions. BridgeSat's compact, low-cost, high-speed space laser communications terminals and ground services are key for achieving their goal of democratizing access to Earth observation data.

• April 25, 2018: ICEYE, an Earth observation company providing synthetic-aperture radar (SAR) data, and Ursa Space Systems (Ursa), a Space data analytics company, announced at GEOINT Symposium an agreement where ICEYE will provide satellite data to Ursa. The data from ICEYE's SAR satellites, used to monitor oil wells and measure global oil storage, will enable Ursa to derive actionable oil demand insights for their customers.

- "Ursa's mission to help their customers make more informed decisions is a vision that ICEYE has been aligned with since our founding," said Rafal Modrzewski, CEO and co-founder of ICEYE. "This partnership is a marvelous example of how ICEYE is able to generate valuable change detection data for specific industries, such as the energy sector."

- Based in Ithaca, New York, Ursa brings transparency to global markets, helping traders and analysts in the financial industry, as well as the energy industry, make more informed decisions. Ursa uses space-based data from satellites as the source of their timely reports on these industries.

• March 26, 2018: ICEYE today announced a cooperation with ESA (European Space Agency) to mutually explore opportunities provided by ICEYE's technology. By using ICEYE's SAR satellite technology and imagery, this new agreement demonstrates ESA's interest in taking advantage of recent innovative New Space developments to foster business. 17)

- The cooperation encompasses activities that focus on the design of the ICEYE microsatellite and its X-band SAR instrument, as well identifying the most promising applications for the data collected by such a microsatellite constellation. "The collaboration with ICEYE in this endeavour is helping us move distinct steps closer to our goals as we explore the potential in the New Space industry," said ESA's Director of Earth Observation, Josef Aschbacher.

- By empowering ESA with ICEYE data, the constellation is helping to shape the future of observing our planet from space. Data collected by ICEYE benefits both researchers and a wide range of commercial industries. Challenging issues such as natural disaster response and climate change research, oil spill and illegal fishing detection all require repeated and timely imaging, regardless of the weather conditions or time of day. This shared effort to gain vast SAR imaging capabilities from new technological developments impacts the whole Earth observation industry and its end users.

- "ICEYE's successful first SAR mission, ICEYE-X1, and the forward-looking response to New Space from ESA have given rise to an extraordinary opportunity to push forward together," said Rafal Modrzewski, CEO and co-founder of ICEYE.
• March 7, 2018: ICEYE, the leader in SAR (Synthetic Aperture Radar) technology for microsatellites, today announced an agreement with Kongsberg Satellite Services (KSAT) to purchase SAR satellite tasking and data from ICEYE. The maritime and ice monitoring data will be collected with ICEYE-X1, ICEYE's first satellite in orbit, which was successfully launched in January. 18)
- "ICEYE was initially started with a focus on actively monitoring changes in sea ice and maritime environments as a whole," said Rafal Modrzewski, CEO and co-founder of ICEYE. "We've evolved to support many different industries with our earth observation data services. Working alongside KSAT, another fellow Nordic company, we are excited to provide the company with greater visibility into their areas of interest and together push the envelope forward for ice and maritime monitoring."
- Norway-based KSAT is a provider of global ground station and Earth observation services. With interconnected and unique polar ground stations in the Arctic and in Antarctica, a growing mid-latitude network, the company operates more than 130 antennas in an interconnected network for access to polar orbits. KSAT currently supports more than 100 satellite missions, including ICEYE-X1, with ground station services.
- "As a world leading provider of near real-time information services KSAT is generally interested in any new SAR mission to support the evolving user requirements. We see the ICEYE mission as an interesting contribution to complement our existing portfolio of multi-mission SAR based services", says Jan Petter Pedersen, Senior Vice President at KSAT.
- ICEYE is planning to launch at least two additional missions throughout the remainder of 2018. The missions, ICEYE-X2 and ICEYE-X3, will help to further develop and demonstrate the company's SAR sensor and data acquisition capabilities for select customers.
• February 2, 2018: ICEYE is providing additional SAR imagery under the address: https://www.iceye.com/lp/iceye-x1-sar-imagery-example-set-jan-2018 19)
Legend to Figure 5: This is a compressed and cropped synthetic-aperture radar image, taken with ICEYE-X1. The spatial resolution is 10 m x 10 m; the scene size is 22 x 73.3 km; the look angle is 16º; the polarization is: single VV, and the processing format is GeoTIFF. The image portrays a part of the Indonesian Island Batam (left), the Singapore Strait, Changi Airport, Tekong Island and a part of the coast of Malaysia. A rather heavy ship traffic can be seen in the strait along with the pronounced wakes of the larger ships.
Legend to Figure 6: This is a compressed and cropped synthetic-aperture radar image, taken with ICEYE-X1. The spatial resolution is 10 m x 10 m; the scene size is 40 x 83.3 km; the look angle is 11º; the polarization is: single VV; and the processing format is GeoTIFF. The surface area of the shallow San Francisco Bay looks rather strange in this SAR image with the many partitions revealed.
• January 17, 2018: ICEYE has published the first radar image obtained with their ICEYE-X1 SAR satellite — the image depicts the Noatak National Preserve, Alaska, on Monday January 15, at 21:47 UTC (Figure 7). 20)
- ICEYE-X1 is the company's first satellite mission. Both the satellite bus and the SAR instrument were developed and integrated by ICEYE. ICEYE-X1 is a significant shift in size from traditional SAR satellites, allowing the technology to be condensed into a satellite with a mass of <100 kg. This in turn enables launching a constellation of many satellites rather than only a few.
- The full image transmitted to the ground from ICEYE-X1 exceeded 1.2 GB of raw data and spans an area of roughly 80 x 40 km on the ground. ICEYE-X1 obtained the image in the span of ten seconds, traveling at a speed of more than 7.5 km/s and at an altitude of 505 km. Matching what ICEYE simulated prior to the launch, the final data resolution from the first satellite reaches 10 x 10 meters.
- ICEYE-X1 has been successfully communicating with the ground since 05:20 UTC, January 12th, using both S- and X-band for transmission. Telemetry data exchanged with the satellite in the first 100 orbits has already reached more than 1GB, surpassing a critical milestone for the mission.
- Rafal Modrzewski, CEO and co-founder of ICEYE, said that with this single image, the ICEYE-X1 mission is already a full success regarding the firm's most important goals, but this is just the beginning. The company is now working to increase the range of incidence angles and to more than double the ground resolution for ICEYE-X2. with the next mission launching as soon as this summer.
- Pekka Laurila, CFO and co-founder of ICEYE, added that after the initial SAR instrument calibration is finished, the company will start operational pilot imaging services for the firm's first customers.
• January 12, 2018: ICEYE has successfully established communications with the 70 kg satellite at 05:20 GMT (07:20 Finland time) now in orbit, signaling the next step in the mission's success (Ref. 12).
• Cartosat-2F and 29 of the PSLV's secondary payloads separated from the PSLV in a 505 km sun-synchronous type orbit in the first 25 minutes of the mission. All satellites separated in 7 minutes (Ref. 10).
- The fourth stage of PSLV-C40 fired twice for short durations to achieve a polar orbit of 365 km height in which India's Microsat successfully separated.
---
Sensor Complement
SAR Sensor

ICEYE developed its own SAR (Synthetic Aperture Radar) sensor technologies suitable for satellites under 100 kg in mass, making it one of the bigger payloads on the PSLV-C40 mission. One special feature of the system is its operation in circular polarization, intended to reduce the effect of rain and fog clutters.

The ICEYE satellites have been baselined for a payload mass of 61 kg, comprising a deployable SAR antenna, front- and back-end electronics plus data processing systems. The SAR antenna consists of five elements, the central element being rigidly attached to the satellite body and two elements deploying to either side to create a 3.2 m wide antenna array.
References
---
1) "SAR for the New Space Era," ICEYE, URL: https://www.iceye.com/technology?hsCtaTracking=278ef11e-f1b5-
4483-a22c-fdcd88e1999e%7Cea1e9dbe-55ee-427a-8503-7a1dfd2d39d3
2) "Satellite Mission ICEYE-X1," ICEYE, URL: https://www.iceye.com/
3) "ICEYE SAR Satellite Capabilities," ICEYE, URL: https://www.iceye.com/sar-data/satellite-capabilities
4) Pekka Laurila, "ICEYE—Smallsat SAR Imaging Expertise," SatMagazine 'Year in Review 2017: Part III, URL: http://www.satmagazine.com/story.php?number=895983867
5) "ICEYE Announces Award with DIUx for Earth Observation Data Support Services," ICEYE, 20 Nov. 2017, URL: https://www.iceye.com/press/press-releases
/iceye-announces-award-with-diux-for-earth-observation-data-support-services
6) "ICEYE Expands European Operations with Addition of Poland Office," ICEYE, 13 Oct. 2018, URL: https://www.iceye.com/press/press-releases
/iceye-expands-european-operations-addition-poland-office
7) "ICEYE Secures $1.2M in Funding from European Seraphim Capital," ICEYE Press Release, 25 Sept. 2017, URL: https://www.iceye.com/press/press-releases
/iceye-secures-usd-1-2m-in-funding-from-european-seraphim-capital
8) "ICEYE Raises $13M in Additional Financing to Develop SAR Microsatellite Constellation," ICEYE Press Release, 23 Aug. 2017, URL: https://www.iceye.com/press/press-releases
/iceye-raises-usd-13m-additional-financing-to-develop-sar-microsatellite-constellation
9) "Space technology startup Iceye raises $2.8 million Series A," ICEYE, 12 Nov. 2015, URL: https://www.iceye.com/press/press-releases
/space-technology-startup-iceye-raises-2-8-million-series-a
10) "PSLV Successfully Launches 31 Satellites in a Single Flight," ISRO, 12 Jan. 2018, URL: https://www.isro.gov.in/2018press15.html
11) Stephen Clark, "India's PSLV lifts off on first flight since fairing failure," Spaceflight Now, 12 January 2018, URL: https://spaceflightnow.com/2018/01/12/pslv-c-40-coverage/
12) "ICEYE successfully launches world's first SAR microsatellite and establishes Finland's first commercial satellite operations," ICEYE Press Release, 12 Jan. 2018, URL: https://www.iceye.com/press
/press-releases/iceye-successfully-launches-worlds-first-sar-microsatellite-and-establishes-finlands-first-commercial-satellite
13) "Microsat," ISRO, 12 Jan. 2018, URL: https://web.archive.org/web/20180125015338/https://www.isro.gov.in/Spacecraft/microsat-0
14) "ECM Space Joins ICEYE's Launch Provider Portfolio," ICEYE Press Release, 22 August 2018, URL: https://www.iceye.com/press/press-releases
/ecm-space-joins-iceye-launch-provider-portfolio
15) "ICEYE-X1 Status", ICEYE, 29 June 2018, URL: https://web.archive.org/web/20220929224636/https://www.iceye.com/status/iceye-x1
16) "BridgeSat's Agreement with ICEYE Provides Laser Satellite Terminals and Data Services to Microsatellite SAR Constellation," Satnews Daily, 22 May 2018, URL: http://www.satnews.com
/story.php?number=1453116547
17) "ICEYE and European Space Agency Announce Partnership to Change the Future of Earth Observation," ICEYE, 26 March 2018, URL: https://tinyurl.com/y7wpceuv
18) "ICEYE Announces Agreement with KSAT for Maritime and Ice Monitoring Data," ICEYE Press Release, 7 March 2018, URL: https://tinyurl.com/ycg4kojo
19) Information provided by Jamie Mayer of BAROKAS PR.
20) ICEYE press release, 17 Jan. 2018, URL: https://www.iceye.com
/press/press-releases/first-iceye-x1-radar-image-from-space-published
 
---
The information compiled and edited in this article was provided by Herbert J. Kramer from his documentation of: "Observation of the Earth and Its Environment: Survey of Missions and Sensors" (Springer Verlag) as well as many other sources after the publication of the 4th edition in 2002. - Comments and corrections to this article are always welcome for further updates (eoportal@symbios.space).
Spacecraft    Launch    Mission Status    Sensor Complement    References    Back to top